EVERYBODY is commenting about the Ray Rice and Janay Rice video that hit the internet and has been viral. For those of you confused or you may have been cozy under a rock, Baltimore Ravens player Ray Rice was caught on camera, in an elevator with his then Fiance' Janay Rice. Long story short, you can see them getting into an altercation as soon as the elevator doors close. Minutes go by, though we dont know how long both Ray and Janay were arguing, and you can see Ray hit Janay and watch her aas she falls to the floor, hitting her head on the rail near the back elevator wall first.
STOP right there. I knowwwwww. Trust me when I say that I KNOW what you are thinking. There's no way in hell a man could hit me so hard that I fall and hit my head, and then lay there unconscious. Like ya'll… he DRAGGED her body off of the elevator and lucky was stopped my hotel staff. I'm done.
Once the video went viral, Here's what Janay had to say: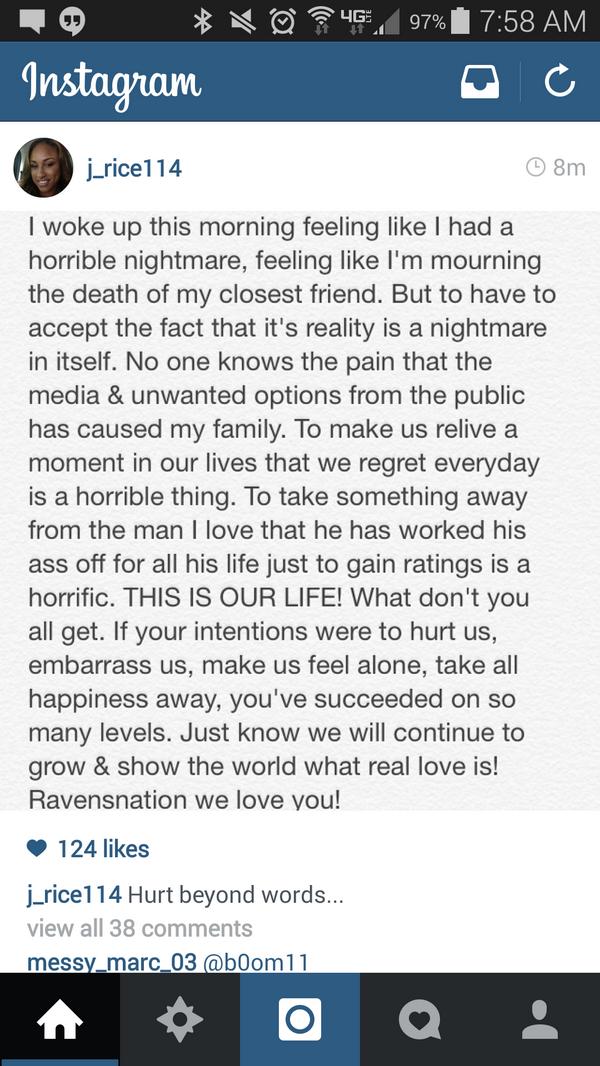 Besides the fact that this SCREAMS domestic violence, take a look at what Racine Henry had to say. Mrs. Henry is a Family System Specialist at Center for Family, Community and Social Justice located Greater New York City. From Lnstagram post to Tweets, this remarkable statement helps me find a sense of understanding.
"[T]here's always the image and the discourse around the angry black woman. That black women are feisty. We have a lot mouth on us. We don't take any crap from anybody. We're probably the ones to hit you first or hit you back, and we won't be as docile as a white woman might be. And so I think there's an expectation that if a black woman was hit, she either did something to cause it or she'll be strong enough to leave. It's almost like we can't be victims. We can't be innocent victims in the way that women of other races can be. We have to be either infallibly strong, meaning 'I'll leave a man before he hits me' or 'You're not gonna hit me. If you hit me, I'll kill you.' Or we have to be the one who somehow precipitated this event by some cause of our own." —Racine Henry (@RaeRenee731)"
I mean…. There's so much going on and being said about this February incident. FEBRUARY.  And now she's married to this man. I can't even begin to explain how much this hurts my heart, but after reading this, I get it… though I need Janay to be strong and that goes for any woman. There's NO way a man could hit you that hard, you marry him, the video leaks, and you say that the media is ruining your life. GIRL. MSN recently shares: "Ray Rice says he and his wife are in 'good spirits' as they 'continue to support each other,' even as fallout continues from video of his apparent assault of her."
Let's pray for both of them.